Help When You're Not Sure About Exercising and Back Pain?

Updated October 31, 2017 | SN Health Resources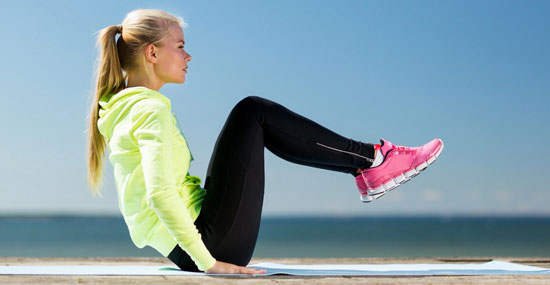 For Part One, see "Worried About Exercise to Relieve Back Pain?"
If you have reservations or concerns about using exercise to treat and relieve back pain, I understand.  They are valid and respected.
If you are suffering from pain, you may already have limitations.  Most likely, your physical options are limited and restrict you from exercising.
Some of the most shared and important questions include:
Is it safe to when I am in pain?

Do I risk further injury or increasing my pain?

Will my current recovery be lost or set back if I exercise?

What type of exercises do you recommend?

What exercises are safe for me to perform?

If the activity causes me pain, should I stop?

Is there an alternative to exercising?
Suggested answers to these concerns are:
Is it safe to exercise when I am in pain?
Yes and No
It all depends on what you do. Some movements are designed to reduce pain while others can make it worse. Initially, you must be selective about the activity and whether it will stabilize your back or not.
When you are already in pain, any movement that you do may be risky.  It is normal to avoid any changes and opt for rest instead.  Rest is essential to recovery and healing.
The problem, however, is that as you are relaxing, the muscles and joints that affect your back are becoming progressively weaker, shorter and stiffer.  Some muscles use this rest period to remain tight as a way to immobilize the area as a protective mechanism.
Be careful not let yourself get accustomed to relaxing.  You need to keeping moving even if it is just a matter of a few gentle movements on the bed.  Remember, too much rest means less treatment and more soreness.  You can create a vicious cycle where rest and recovery do not help but worsen matters.
Breaking the cycle
Muscles do not relax as well as they contract.  This problem becomes more evident with age.  They require stretching to counter this natural effect.  When you're young, you have all of the flexibility in the world, but at around 8-10 years of age, everyone's muscles begin the tighten up (especially your hamstrings).
If you're dealing with a back injury now, you are definitely experiencing a muscle contraction that is trying to prevent further harm (muscle guarding and back spasm).
It is only safe to exercise when:
There is adequate rest recommended by your doctor.
Your doctor advises exercise for your recovery.
You are aware of where the source of pain is from (ex. muscular, nervous or skeletal)
The activities are controlled, safe and intended specifically for low back pain
Do I risk further injury or increasing my pain?
Yes.  But it depends on the type of exercise.
When you are beginning an exercise routine, avoid any activity that involves the following movements:
excessive upper body movements that require leaning, bending and twisting
upper body movements that require lifting more than your body weight
actions that place more effort on the upper body than the lower
exercises that don't focus on the hip and leg muscles (specifically the gluteal muscles)
exercises that require sudden or ballistic type movements or stretches
Will my current recovery be lost or set back if I exercise?
No.
It's dependent on the type of exercise that you choose.
If your current recovery becomes compromised, then that is a sign that either you are performing the wrong exercise or that you are over exercising and should allow more recovery time in between.
Without a specific plan, then you are not allowing your back and the muscles that protect it to become proactive in the recovery.   It either causes your current recovery to move inefficiently and slowly or to be ineffective when your body is required to perform under stressful conditions.
What type of exercises do you recommend?
The conditions recommended above in the previous answers help to determine the type of activities needed.
At first, you should be performing exercises suggested in a rehabilitation setting.  Slow, controlled, safe and precise.  Avoid anything that does not meet these criteria.
The exercise must also incorporate movements to generate more flexibility, range of motion, strength conditioning and stability.   There are a wealth of exercises available and also offered on this site.
What exercises are safe for me to perform?
It depends on your level of back pain and degree of injury.
The milder your symptoms, the more active your chosen exercises.  Core building activities are always the best form.  If your condition is much more severe, then it's easier and safer to follow rehabilitation based exercises instead.
Here are 10 important core focused & 'back' targeted, exercises that would help both situations.
This site recommends, in 4 stages, this particular set of exercises that you should follow in priority to help relieve your pain.
When protecting your back, be sure to keep aware of the following
Exercises should:
Protect the lower back from imbalanced injury
Specifically target lower back, hips, leg muscles and joints
Address your initial, tightness, stiffness, and mobility
Engage weakly and poorly functioning muscles and joints
Strengthen weak and imbalanced muscle groups over specific levels and time
Incorporate different methods of conditioning for each muscle group
Place a significant degree of effort on the muscle group progressively
Help the muscle group and joints to engage and function at ALL times of any activity naturally
If the exercise causes me pain, should I stop?
Yes
If it doesn't pass the above requirements.
Is there an alternative to exercising for lower back pain?
Yes
There are alternates to exercising. Many of us recover with little intervention other than rest.  There are many alternatives out there and many success stories to reflect their value.
Even though there can be a recovery without exercise, there is no protection from the return of issues that exercise can provide.
You may find that some of the alternatives do incorporate a required amount of exercise, but they do not necessarily promote it as well or often as what it offered here.
It is important to keep in mind that your lower back is dependent on balanced, strong, and flexible muscles that require specific exercises.  Wherever you go to find your solution to your pain, you will find this advice will be very helpful to your recovery.
For lower back pain, it is better to perform exercises suggested in a rehabilitation setting.  Slow, controlled, safe and precise.  Avoid anything that does not meet this criteria.
Are you convinced yet?
It's definitely worth a try.  By following these ten popular and recommended exercises to help your back you will be able to have a much better idea of whether or not it is worth it.  These exercises are not intended to stress you out.  They are quite straightforward and can be done right where you are now.  Give them a try and see!
Not sure? Need more help?
What exercise can do to help you now.
Why it matters to keep moving.
References: