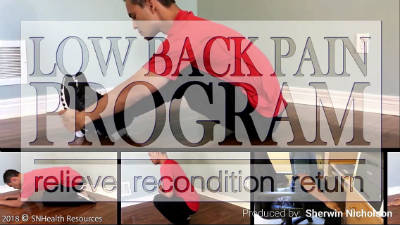 Site Disclaimer & Privacy Policy
Sherwin Nicholson | SN Health Resources |Updated May 1, 2020



All information and content provided on this website is intended for educational purposes only.  I will always strive to provide the most up to date, and effective information to help the website reader and eBook user achieve their goal to attain more low back pain relief.
 ALL information, advice, treatment and exercises provided on this site not limited to and including the Low Back Pain Program eBook/PDF/softcover/kindle/E-reader, The Companion Guide for the Low Back Pain Program eBook/PDF/softcover & The Low Back Pain Program Video Stream should not be used as a substitute for proper medical care.
Prior consent by your Medical Doctor, Health Care Provider or a Medical Professional must be given before use of any material provided on this site.
Any medical conditions, injuries or risks involved with exercise should be directed to a family physician, health care provider or other health care professional trained in this area prior to use of any the information or video provided on this website or the eBooks/PDF/softcover/kindle/E-reader/Video Stream sold and distributed.
Medical treatment and consultation by your own health care professional should be the first priority in any lower back pain program.
The support, information, and advice that I can provide from form submission on the website or email cannot be of medical advice.  I am not able to determine specifically your medical condition or history of injury and cannot as such.
Emails and submissions will be addressed as timely as possible and will be strictly limited to the scope of the information provided from the website and instructional eBook.
Any information sent by submission form or email will be kept strictly confidential and will not be used in any manner other than the original intended purpose.  This applies to names, addresses, email addresses, phone numbers and all information related.
All information, images, videos, diagrams, logos and articles on this website are copyrighted and may not be reproduced or used in any form or method without the prior written or verbal permission of Sherwin A. Nicholson and SN Health Resources, author, owner and publisher of The Low Back Pain Program, The Companion Guide to the Low Back Pain Program and The Low Back Pain Program Video Streams.
Please feel free to contact me if you would like permission to use, reproduce and distribute any of the published and digital material available on this website.
This website uses technology to monitor and track visitors solely in order to provide information to optimize and improve the website's functionality management.  Information collected such as page usage, visits, time of use and other pages referred is purely anonymous, and no personal information is collected whatsoever.  No personal information is collected without any permission.
The Free eBook Offer applies only to PDF Version where applicable.
Inquiries Regarding the Other Resources Page
Thank you for your interest in the Low Back Pain Program Website.  This site has been steadily growing in both content and visitor interest.  This site is dedicated to providing valuable and honest information for those in need of information for lower back pain.  This includes the eBook available for download.
If you have any questions regarding the posting of any suggested information on my site or the Other Resources Page, you send an email to me anytime.
Unfortunately, I do take upwards of at least 1 week to respond to any requests.  If I am able to help you with your request, I will respond ASAP, otherwise due to an overload of requests, only accepted requests, will be notified.
PLEASE NOTE: Currently, I am not able to post resources that involve any links that directs readers away to an external sale.  I only post content related to this site.
Thank you for your time.
Together we can continue to help provide much-needed information for those in need.
Sincerely,
Sherwin Nicholson
SN Health Resources
https://lowbackpainprogram.com
.