Scroll Down for Order Options


by Sherwin Nicholson,  Hons. B.Sc.
The 4 Step, Illustrated Guide, Designed to Safely Relieve Chronic Back Pain
The most common cause of back pain is muscular.  This causes frequent back spasms, pain when you are sitting or standing, pain when you wake every morning & chronic, stiffening pain throughout the day.
When key muscles are no longer actively protecting your back, they become the source of your pain.  This can worsen disc, joint and nerve pain associated with your spine.
Retrain and strengthen the weak and unbalanced areas of your body essential for long term pain relief: your lower back, hips and legs.  Protect yourself from the most common causes of back pain and better manage disc, joint and nerve issues.
Bring relief to your current chronic pain issue – back spasms, pain when sitting, standing & sleeping
Strengthen and balance these problem areas to prevent them from returning
Protect yourself from future injuries, allowing you more freedom, safety and stability
All exercises can be done virtually anywhere, anytime with little room and equipment
Specifically target all levels to bring pain relief for lower back pain sufferers
Rely less on pain medication or possible surgery
Exercise, work, move, lift, stand, sit & sleep with much less pain
Be both active & protective with your back to prevent pain
Relieve any future back issues with faster recovery from pain
What's Inside the Book:
Over 170 detailed, fully illustrated images of movements and stretches key to back pain relief
4 stages to move you out from your current pain, to actively protecting you

The Proper Mindset chapter, progress charts & bonus exercises

Step by step guidance with each exercise, exercise tips & anatomy diagrams
Results and Support:
4.6 out of 5 star rating on Amazon Kindle, iBooks, Smashwords & Goodreads (verified purchasers & current users)

customers report relief experienced in as early as the first week of use
Over 5400 satisfied customers since initial release
One of the highest customer satisfaction rating
60 day money back guarantee (PDF) with 24 hr email coaching
Full Testimonials and Reviews (never edited)
eBook instructions. Answers to everything you need to get started
Frequently Asked Questions about the Site and eBook
Direct 1 on 1 email, coaching support with the program & a 60 day refund guarantee (PDF version)

My experience is from 21+ yrs of practice in medical research at the Toronto General Hospital and the Toronto Hospital for Sick Children as a Research Scientist.
I developed and designed this book over a 3 year period to overcome my own 10 year struggle with severe lower back pain. Like many, I struggled to find adequate help and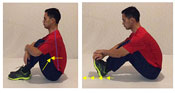 now use these techniques to help others. The guide is personally illustrated by myself to demonstrate each step for you to master for relief.  The response has been amazing for and from my customers because they themselves are empowered to treat themselves effectively. – Sherwin Nicholson
Not sure? Go to "Why Trust This Program?" After, you can Go to the eBook Instructions to learn how to use the program.
There are 5 eBook formats: Please click on the logo to download your type: