LEARN HOW IT WILL HELP YOU BELOW (PDF Version has 60 day refund guarantee)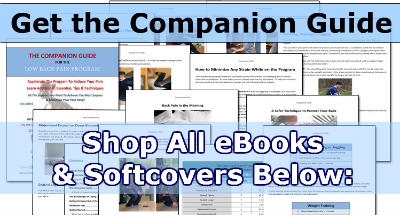 by Sherwin Nicholson,  Hons.B.Sc.,
Author, & Research Scientist
Don't Struggle with Back Pain Anymore
Correct the Mistakes that Cause Your Pain Now with Easy, 1 min. Exercises & Stretches
–Frequent back spasms you can't stop?
–Stiff, tight, painful back while sitting or standing?
–Pain every morning whenever you wake up?
-Chronic 'stiff' pain that affects your whole day?
–Soreness and tightness in your hips & buttocks?
These symptoms are progressive conditions you can stop.
Stop painful, guarded, unbalanced & over tightened muscles.  Release & strengthen your tight, weak, hips, hamstrings and back.  They'll trigger pain & injury until

you

reverse it.
Step-by-Step You Will:
–Bring relief to current pain when sitting, standing & sleeping
–Strengthen & balance problem areas to prevent harm
-Protect yourself from injuries for more freedom & stability
–Do all exercises anywhere & anytime
-Rely less on medication or possible surgery
–Exercise, work, move, lift, stand, sit & sleep with much less pain
–Be active & protective with your back to prevent pain
–Relieve future back issues with faster recovery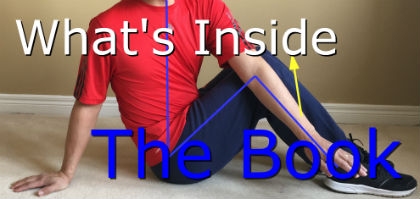 170+ Detailed, fully illustrated movement & stretches
4 Levels that move you out of your current pain, to actively protecting you
The Proper Mindset Chapter, Progress Charts & Bonus exercises
Step by step guidance with each exercise, tips & more
PREFER VIDEOS? GET THE VIDEO STREAM VERSION HERE INSTEAD! BEGIN IN MINUTES!
Proof and Support:
4+ out of 5-star rating on Amazon Kindle, iBooks & Goodreads

Many customers experience relief within the 1st week
20,000+ customers & one of the highest satisfaction ratings
Full Testimonials & Reviews, FAQs
Direct 1 on 1 email support

a 60-day refund guarantee (PDF version)
Not sure? Read Why Trust This Program? and the eBook Instructions to get started. Get the Companion Guide!
Remember: The key to overcoming your pain is by training yourself to. You're not alone on your recovery and have my email support anytime.
My experience comes from 21+ yrs in Medical Research at the Toronto General Hospital and the Toronto Hospital for Sick Children.   I wrote this book over a 3 yr period to overcome my 10+ year struggle with severe back pain.  I too struggled to find help and use these techniques to help others. The guide is illustrated by myself to demonstrate each step for you to master for relief.  – Truly, Sherwin Nicholson.
Please scroll down for PDF download, Softcover, Kindle or iBooks version