The Low Back Pain Program
Relieve Recondition Return
The Key to Long Term Back Pain Relief is through Specific and Effective Exercises
Click For Some Illustrated Exercises and Stretches to help Lower Back Pain (found in the eBook)
For more information on exercise, back spasms, morning back pain, the lumbar spine and more, please explore the many links on the menu and side bars
"IN USING THE PROGRAM I NOTICE THAT BONES AND MUSCLES ARE LOOSENING UP AND I'M LESS TENSE. I CAN DO THE EXERCISES ANYWHERE I WANT WITH THE TIPS GIVEN IN THE EBOOK."
To learn more about the exercises available in the easy to follow Ebook and its benefits, please read further
Learn Exercises that are Designed for Hip and Back Mobility for Pain Relief
With the Program, yo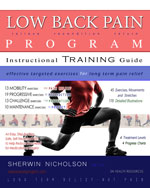 u can follow and learn a series of exercises, stretches and movements that are designed to strengthen and improve your mobility to reduce or prevent pain, long term.
This corrects the stiffness and tightness that back sufferers have developed over time.   It targets the very muscles and joints that have lost proper function and have led to instability.  This instability results in pain.  Increased mobility allows the sufferer to perform everyday tasks and activities sometimes avoided due to stiffness and tightness.  The extra freedom relieves the strain and fatigue your lumbar spine endures as it bears most of the physical burdens that we place on it.
          By creating more mobility and freedom of movement, the spine will suffer less from the effects of chronic tension, tightness and pain.
Targeting Specific Muscle Groups to Treat Pain
The movements and exercises serve to release this tension in order to relieve strain on the low back muscles and pressure on the lumbar discs and nerves of the lumbar spine.   Step by step directions are provided, with specific exercises and movements target each area of the body that contributes to lower back pain.  Together,  all exercises complement each other to transfer more responsibility from the lower back to the rest of the lower body.
The Program Advantage
The advantage of the program is that you can progress through the training involving all exercises and movements, and then use only the Maintenance Exercises on a daily basis to prevent recurring and future pain.   Simple activities and movements that are very challenging and painful to perform in the past will gradually become less painful over time.  The exercises are easy to learn and require little assistance or equipment.
      The first section is written keeping an individual who is experiencing very limited movement in the back and hips in mind.
   It addresses this concern, all the while being careful not to create more stress that may discourage use and commitment to the program.
       There are four sections that are specific to the lower back muscles, abdominals, and hip flexors and hamstrings.  Each section begins with careful initial steps that progress into more challenging ones.  There are exercise progress charts in the book to help keep track.  The exercises, movements and stretches come with a full set of pictures for each instruction.  You can follow pictures that demonstrate the initial position of the movement, steps in between and the final position.
The program understands the challenges that people have when exercising, and stretching, which can make rehabilitation difficult and sometimes discouraging.
Exercises are chosen and developed carefully to maximize effectiveness and minimize time involved.   This allows you more mobility, strength, endurance, time that can be devoted to more enjoyable activities with reduced pain.   You can return to a more active lifestyle with fewer previous limitations and have more free time.
The Program Ebook
The Program eBook is instantly downloadable to print and use, easy to read and use in the comfort of your own home and at your own time.  It contains information and instruction relevant and necessary for the user.   No time wasted on filler or irrelevant material that is distracting.
It is very affordably priced (a cup of java) to help assist as many fellow sufferers as possible. This helps those concerned with investing any more time and money on their lower back pain issues.
       If after trying and using the program, you do not find the Program eBook helpful, send an email, transaction ID#, and your purchase will be fully refunded with a 60 day money back guarantee.
Download a Copy Now and Begin Treatment ASAP

Get help here: