The Low Back Pain Program, Companion Guide & Video Stream
Relieve, Recondition & Return
The Key to Long-Term Relief Using Simple & Effective Exercises

Click For Some Illustrated Exercises and Stretches to help Lower Back Pain (found in the eBook/PDF)
For more information see: the benefits of exercise, managing back spasms, pain in the morning, and the spine.

"IN USING THE PROGRAM I NOTICE THAT BONES AND MUSCLES ARE LOOSENING UP AND I'M LESS TENSE. I CAN DO THE EXERCISES ANYWHERE I WANT WITH THE TIPS GIVEN IN THE EBOOK."
The Key to Long-Term Relief Using Simple & Effective Exercises
Learn all of the Exercises that are Designed for Hip and Back Mobility for Relief
With the Program, you can follow and master a series of 1 minute stretches and movements  that can  re-strengthen and improve your mobility to reduce or prevent pain, long term.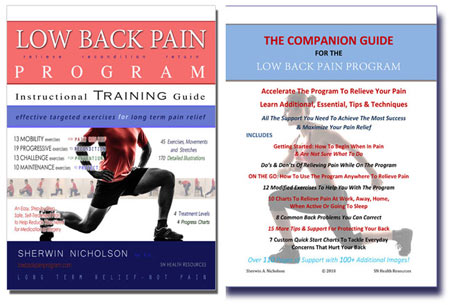 Correct the stiffness and tightness that has afflicted you for too long.   You can target the very, unstable, muscles and joints that have stopped protecting you.  Don't let instability hurt you.  Increase your mobility and return to the everyday activities you once avoided due to stiffness, tightness and pain.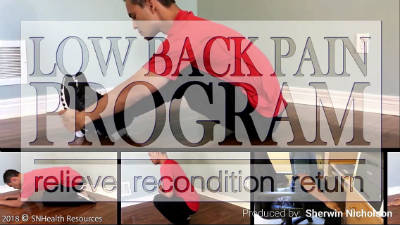 By restoring more mobility and freedom of movement, your spine will have relief from the effects of chronic tension, tightness and discomfort.
Targeting Specific Muscle Groups for Relief

The movements release this tension in order to relieve strain on the low back muscles and pressure on the lumbar discs and spinal nerves.   You get step by step directions for each exercise to target each area of the body that hurts you.  Together,  all complement each other to give you the most effective plan.
The Program Advantage
The biggest advantage of the program is that after you have progressed through all of the movements, and you then only use the Maintenance Exercises to prevent recurring and future harm.   Simple activities and movements that are very challenging and painful to perform in the past will gradually feel better over time.  They are easy to learn and require little assistance or equipment.
4 Stages to move you out of your pain!
Four sections specific to your lower back muscles, abdominals, hip flexors and hamstrings are taught.
Each section begins with careful initial steps that progress into more challenging ones.
You will get progress charts in the book to keep you on track of your progress.
The movements and stretches come with a full set of pictures for each instruction.
You can follow pictures that demonstrate the initial position of the movement, the steps in between and the final position.
These individually selected exercises are chosen and developed carefully to maximize effectiveness and minimize the time involved to complete.   You can have more mobility, strength, endurance, and time to be devoted to more enjoyable activities with reduced pain.   You can return to a more active lifestyle with fewer previous limitations and have more free time.
 The Program eBook/PDF/softcover/video stream are all easy use in the comfort of your home and while at your own time.  It contains information and instruction relevant and necessary for the user.   No time wasted on filler or irrelevant material that is distracting.
It is very affordably priced to help assist as many fellow sufferers as possible. This helps those concerned with investing any more time and money on their lower back issues.
       If after trying and using the program, you do not find the Program eBook helpful, send an email, transaction ID#, and your purchase will be fully refunded with a 60-day refund guarantee.
Download a Copies or Order the Softcovers Now and Begin Treatment ASAP

Get the VIDEO STREAM today here!

Over 20,000 Sold to Date worldwide!

Free Delivery in US & Canada

Get help here:

Now Available, The Companion Guide!

Help for wherever you go and whatever you do.

Get THE LBPP VIDEO STREAM NOW!